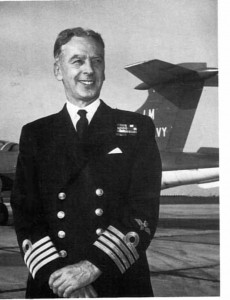 Scroll down for the options to play audio and video.
On the third of Gagarin's five days in Britain, immediately following his meeting with Prime Minister Harold Macmillan, on Thursday 13th July 1961,  he had the only private meeting of his visit with Captain Eric Brown where the press was not invited, no photographs were taken and no official record was kept.  During this "test pilot" to "test pilot" meeting, Gagarin clearly told Brown that he had ejected from his spacecraft. Although not in the same league as Brown, Brown considered Gagarin to be a test pilot. The Soviets consistently maintained that he had not but eventually, a decade later they conceded officially that Gagarin had bailed out and landed by parachute. When I asked Captain Brown why he had never published the details of his private meeting before, "no one asked me before" replied.
Podcast: Play in new window | Download (Duration: 25:25 — 17.4MB) | Embed
Subscribe: Apple Podcasts | Google Podcasts | Spotify | RSS | More
At the time Captain Brown was the deputy director of Naval Air Warfare and the meeting took place between him, his deputy and colleague from the Admiralty who could speak Russian but that was kept secret from Gagarin and Belitsky. Brown sought additional confidence that the translator was translating sincerely.
Captain Brown has had a unique career as a test pilot. He had met many of the key players in aviation and rocket design. Hanna Reitsch, Herman Goering and Wernher Von Braun. Brown's achievements as a test pilot were well established and it is probably with the knowledge of his accomplishments that the Soviets agreed to such a meeting. Brown still holds the world record in deck landings (2407) and the number of aircraft types flown (487). He also has several firsts (first deck landing of a twin-engine aircraft, first deck landing of a jet engine) of which the Russian's and Gagarin would have known. By 1960, many of his books were available in translation in technical colleges which young aviators like Gagarin would have come across. It is likely that Gagarin knew of Brown and wanted to meet Brown just a much as Brown wanted to meet Gagarin.
Immediately following the war, Brown was inevitably involved in supersonic flight testing and reached speeds up to mach 0.9. He was testing a secret high-performance aircraft designated as the Miles M52 which was suddenly and suspiciously dropped in 1946. Had it not been; it was very likely that Brown would have added first supersonic flight to his collections of firsts. In the event Chuck Jaeger in USA claimed that achievement in 1947.
He is considered to be the greatest ever test pilot by some within the aviation industry.
An extensive interview, recorded in his home on 19th January two days before his 92nd birthday, is edited specifically for his recollections about Yuri Gagarin.