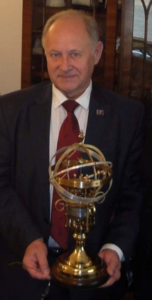 Speakers include Cosmonaut Anatoly Artsebarsky and Phil Clark, Andrew Knight, Phil Mills, Galina Nechitailo, David Shayler, Bert Vis, Andrew Thomas, Bert Vis, Brian Harvey, Bart Hendrickx, Sven Grahn.
During the weekend of 2nd and 3rd June 2018 the BIS will be holding its annual Russian/Sino Technical Forum at the Society's Headquarters in London. This Forum has been running for a glorious 38 years, under the title Soviet/Chinese; last year, we modernised the title to reflect the content more accurately.
For this year's draft Programme, please click here. We are honoured to have our usual excellent crew of speakers and delighted that cosmonaut Anatoly Artsebarsky is joining us again this year!
The Russian/Sino Technical Forum is one of the most popular and longest running events in the Society's history and has hosted some star guests over the years. We are proud to say that we have sufficient material for a two-day programme this year and we will continue the tradition of featuring a wide-ranging agenda. Details of the programme are being finalised but will feature presentations, films and debates on the history, current activities and future plans of both the Russian and Chinese space programmes. We encourage members to support the event, visit the heart of the BIS and take the opportunity to meet old friends and establish new contacts.
All speakers and delegates are welcome to join us for an informal dinner on Saturday evening at the Riverside pub, Vauxhall. This dinner will be self-funded so you need only let us know whether you definitely want to join us, so that we can give an accurate head count for the booking. (Please add a comment in the notes field in the shopping basket). It's possible the pub will want to take pre-orders and we will email you if that turns out to be the case.
To register please click here or call 020 7735 3160.