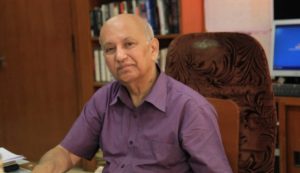 The Indian Space Research Organisation formally came in to being in 1972. By then, India had been developing its space program for almost a decade. The first launch to space from Indian soil was a two stage Nike-Apache rocket supplied by USA with a  sodium  payload from France. The rocket delivered a vertical trail of sodium vapour in space above the twilight sky of the south eastern coast of Kerala on 21st November 1963.
In this episode, professor UR Rao talks about his rich and diverse career. Professor Rao completed his Phd under Dr Vikram Sarabhai, then went on to work for NASA at MIT and in Texas exploring the Solar System with instruments on NASA's Pioneer and Explorer spacecraft. He returned to India at Sarabhai's request and after heading up the Physical Research Laboratory, in 1984 became the chairman of the Indian Space Research organisation. He served in that role until 1994.
During his 81 years, he has participated in many significant areas in space and science exploration.  Several key individuals associated with space and science research including CV Raman, Robert Millikan, Ed Stone, Arthur Clark,  James Van Allen , Abdus Salam and Vikram Sarabhai were individual he knew personally and some were colleagues.
Podcast: Play in new window | Download (0.0KB) | Embed
Subscribe: Apple Podcasts | Google Podcasts | Spotify | RSS | More