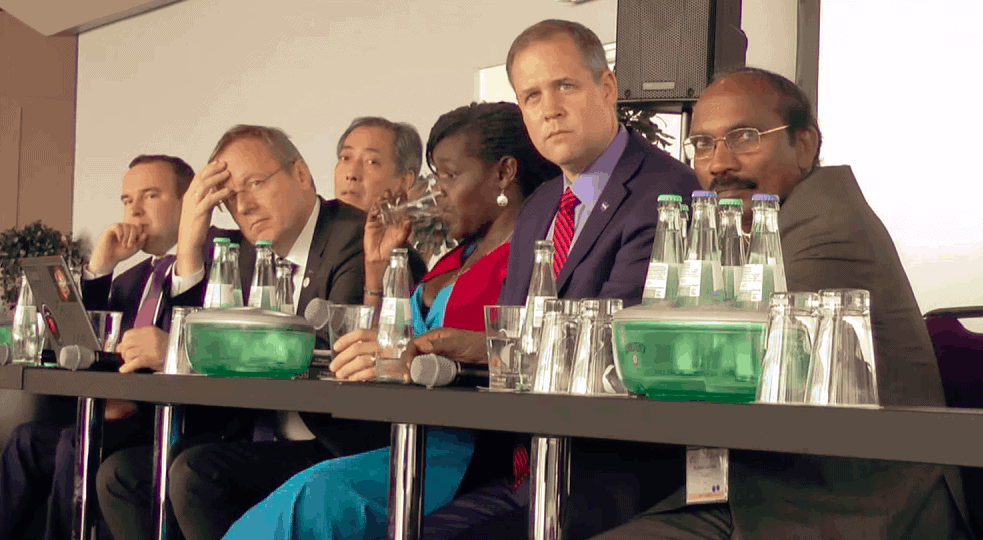 This is my recording of the Heads of Space Agency press conference 1st October – the first day of IAC2018. This video was not initially intended to be published. But here it is unedit – some may find it of interest.
In Attendance:Left to right
Dmitry Loskutov in place of Dmitry Rogozin – (Roscosmos)
Hiroshi Yamakawa – (JAXA)

Johann-Dietrich Woerner – (ESA)
Maggie Aderin-Pocock (Moderator – BBC)
Jim Bridenstine – (NASA)
K. Sivan – (ISRO)
Sylvain Laporte – Canadian Space Agency (not present)
Zhang Kejian China National Space Administration (not present)
Some notes
Head of Roscosmos Dmitry Rogozin – prevented by sanctions against Russia to travel to Germany. Replaced by Dmitry Loskutov.
Bridenstein:
Experiments on ISS from 103 countries
Gateway – Open architecture, a fraction of the size of the ISS. is not in LEO so has no radiation protection from the Van Allen Belts
Reduced electromagnetic radiation from Earth. May allow new experiments in astrophysics
Multiple trips to lunar surface from the Gateway and hence potential for new science experiments on the surface.
Question: Is NASA subsidising SpaceX? Did not deny it outright at the outset.
Nasa's goal is in establishing a capability, lower cost and enhanced innovation. Ultimately more customers for SpaceX not just Nasa and more service providers – not just SpaceX.
My question on when the US law that prohibits US/China collaboration in space will end?
Answer: The law expires and is renewed every year. (Left it open ended really).
Question: Is China space programme is too close to Chinese military? Answer: This is a concern for US government and Nasa will do what its government permits it to do
Sivan
Indi ahs no plans for human missions to the Moon.
Regarding India cooperating with China on human spaceflight training, he left it open-ended. I think he was aware of the deal for Modi administration was making with Russia (announced a few days later) but could not say anything at this press conference.
Woerner:
ESA Astronauts are learning Chinese. Will fly with China in the future but no date yet.
---