Soyuz T11 Crew
Recently two audio clips (see below) of Sharma's broadcast have emerged. They were recorded in 1984 by Sven Grahn in Sweden. The audio clips are part of a TV broadcast transmitted on 7th April and captured over two orbits. The first clip Sharma talks about the Yoga experiments and in the second, we hear him for the first time speaking in Russian about the pictures of Indian leaders he took with him to space. He mentions the defence minister because Rakesh Sharma was a member of the Indian Airforce and had no connections with ISRO. The audio was originally recorded live by Sven Grahn and transcribed from Russian to English by Bart Hendrikx. Transcription and the audio clips below. My thanks to them both.
In 1984, Wing Commander Rakesh Sharma became the first Indian national and the 138th person to enter space. His trip into space was part of the USSR's Interkosmos programme. During this programme, 14 non-Soviet cosmonauts travelled to the USSR's Soyuz space station in low earth orbit stations between 1978 and 1988.
On  Tuesday, 3 April 1984, at 10:38, Rakesh Sharma with Commander Yuri Malyshev and Gennady Strekalov blasted off from the Baikonur Cosmodrome the Soyuz T-11 spacecraft. Ten minutes later, Soyuz T-11 was in a 224 kilometre LEO on its way to dock with the space station Salyut 7. After just over a week on Wednesday 11th April Sharma returned to Earth aboard Soyuz T-10 as planned to the USSR 46 km to the east of the city of Arkalyk.
During his 8 days, Sharma conducted several observations, experiments and participated in live TV broadcasts. His first broadcast and conversation with the Indian prime minister Indira Gandhi took place on the 4th April and is well documented.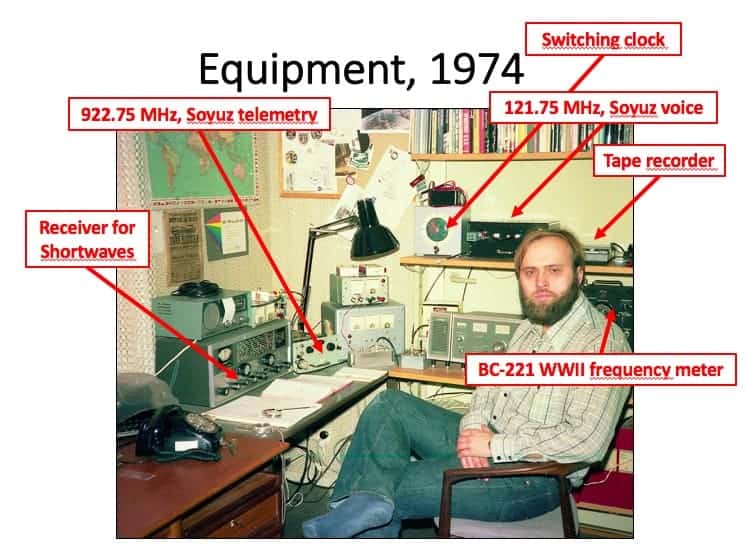 Audio recorded in Real-time by Sven Grahn
14:45–14:50 UT 7/4/1984
Yuri Malyshev: (in Russian)
… in order not to spoil the experiment…
Yesterday, while we were flying over our country and doing experiments with our film cameras, I asked Rakesh to come to the window and look at the beautiful Kuril Islands, the volcanoes. As far as my native region is concerned, I would gladly invite Rakesh to the Volga region where I was born and to the Dnepr region where I grew up and would show him these two mighty and beautiful rivers … (inaudible)
Rakesh Sharma: (in English)
In order to conserve muscle tone as well as (inaudible). As everyone know this is due to the lack of gravity and tends to expand a bit. So for these exercises we have selected 5 (in audible) and other warming up exercises padma asana, and again we will go back and get some more readings which will then be compared before flight and after flight and then we will know. And no I have not done yoga before coming [to this] programme but that again makes me a better subject because there is no preconditioning involved. When I reached here it was without the help of yoga and I did yoga only here and therefore the results will be more interpretable.
16:20-16:24 UT 7/4/1984
Yuri Malyshev: (in Russian)
… television viewers in India and the Soviet Union. In this television report we want to talk about… (inaudible)
We have brought with us to the station pennants and flags of the Soviet Union and India, coats of arms, commemorative medals, envelopes. We are now showing you pennants made on the occasion of the joint Soviet-Indian spaceflight, diplomas. Right next to us is a medal of Gagarin made on the occasion of the 50th birth anniversary of Gagarin and awarded to the crew of the Salyut-7/Soyuz orbital complex, cosmonauts Kizim, Solovyov and Atkov. We have also brought with us symbolic items from India about which Rakesh Sharma will tell you more.
Rakesh Sharma: (in Russian)
As Yuri Malyshev already told you, these are portraits of our leaders : Mahatma Gandhi, who we call the father of the homeland, did a lot to fight colonialism, Jawaharlal Nehru, the father of Indira Gandhi, our president Zail Singh, our prime minister Indira Gandhi, who is well known, and our Defence Minister Ramaswamy Venkataraman. We have also brought the coat of arms of our Air Force, the coat of arms…. (inaudible)
---