Title: India's Rise as a Space Power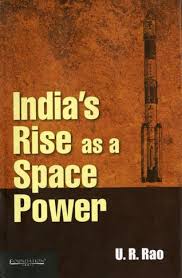 Publisher: Cambridge University Press, India Pvt Ltd
Author: U.R Rao
ISBN-10: 9382993487 ISBN-13: 978-9382993483
In the April of 1971, the USSR approached India and offered to launch an Indian satellite. Vikram Sarabhai asked UR Rao to develop and lead the program. In December 1971 Sarabhai died. Perhaps it was this sacred memory of his mentor, friend and boss that gave Rao the infinite drive to put an Indian built satellite in Earth orbit with remarkable haste. Where Sarabhai had given India a space program, Rao gave India the confidence to design, build and operate satellites. This was the start of Rao's fascinating career with the Indian Space Research Organisation (ISRO) that culminated in his decade long tenure as ISROs' chairman starting in 1984. In this book, Rao recalls his personal recollections whilst at the helm when ISRO started to build and launch science, communication and remote sensing satellites, initiate program for the GSLV 3 heavy launch vehicle and established Antrix, ISROs commercial arm.
The main thrust of the book documents Rao's key contribution, specifically establishing India's satellites program and developing the ground based infrastructure to receive, process and disseminate the resulting data. It also captures the collaborative, competitive and antagonistic environment of the Cold War that prevailed at the time.
The author shares some remarkable insights that given his central role, have an unquestionable authority. For example, the Soviet Ambassador Pegov in May 1971 asserted that USSR would only launch India's first satellite if it was heavier than the first satellite launched by the Chinese (p27). India was not a just a passive receiver of help from the USSR but as professor Kovtunenko acknowledged India was of "immense value" (p47) to the Soviet space program too. The USSR launched the first three satellites (Aryabhata, Bhaskara 1 & 2) and EAS launched the 4th (Ariane Passenger PayLoad Experiment APPLE). All were launched without charge. Drawing on his personal international contacts he provided the leadership and the inspiration to make it happen.
In chapter eleven Rao describes his own reservations in the value of accepting the Soviet's offer to launch an Indian Astronaut. Indian Air Force's Rakesh Sharma returned from his 8 days in space in April 1984 to huge public celebrations. But ISRO was not ready and could not build on that success at the time.
Most of the 21 chapters in the book deal with the potential of space technology to help mitigate poverty and elaborate on how far that potential has been realised. Chapter 19 deals with one of the most fascinating episodes in ISRO's history and Rao was at the centre of it at the time. India had mastered rockets that used solid propellants and liquid propellants. ISRO then embarked on a program to acquire cryogenic engine technology (engines that use liquid Oxygen at -182C and Liquid Hydrogen at -253C) the most efficient rocket engines that exist. The very low operating temperature is a tough engineering challenge. This episode illuminates not only the political upheavals of the early 1990s but also the economics of national space programs. India had negotiated a cryogenic technology transfer deal with the Soviets but soon after the breakup of the USSR, the USA flexing its muscle as the only superpower forced Russia to renege on the deal. Threatened by the commercial impact of India as a rising space power, USA falsely claimed that the Indo-Soviet technology transfer deal violated the Missile Technology Control Regime.
It is traditional for any book review to include aspects that were not up to scratch even if it ticks all the boxes. A key omission was an index. This is true for any non-fiction book but especially one that deals with key events, people and places. Most of the book uses clear articulate text for which no scientific background is required. However there are small section that are a little heavy e.g "12 C-band transponders provided a 10/12 functional redundancy" (p96). Rao after all is an accomplished cosmic ray scientist with a substantial track record in writing scientific papers.
The author uses the word "parallely" frequently throughout the book. Initially it was a little repetitive but ultimately this one word conveys the central message that satellite development was not taking place in isolation but several elements of a national infrastructure steeped in science and technology were being harnessed simultaneously for a modern India as the 21st century approached.Sarabhai's original vision was finally being realised.
In what is one of the shortest chapters (Chapter 8) Rao describes the birth of the ISRO Satellite Centre (ISAC). Today ISAC is where satellites are designed and built before going to Earth orbit or in to deep space. ISAC is a central component of Rao's extensive legacy and this book authoritatively captures the details of how it came about. The book has an immense value for future historians. Not all previous ISRO chairmen have documented their experiences as Rao has done here. It is a valuable source of fascinating information in India's development, an example that future ISRO chairmen should be encouraged to follow.