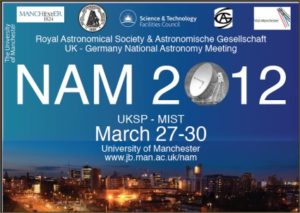 This episode has no specific astronomical topic but draws attention to a very special astronomy meeting later this month. The Royal Astronomical Society's annual National Astronomy Meeting last year was held in Wales, next year it will be in Scotland but this year it is in Manchester. National Astronomy Meeting 2012 or NAM2012 will be hosted by the University of Manchester in partnership with Germany's equivalent to the RAS, the Astronomische Gesellschaft in the last week of March 2012. Despite the title it is very much international in nature with professional astronomers attending from USA, Australia and Europe.
I hope be blogging from the meeting, if you are around do stop by and say hello. I plan to record interviews with some of the speakers for future astrotalkuk episodes.
From the evening of Monday 26th March to Friday 30th, the weeklong program has a fascinating and varied schedule including free public talks. Although free – booking online is essential. Some of the outreach elements include
In the following recording by telephone Dr Tim O'Brien from Jodrell Bank, explains the background to NAM2012 in Manchester.
Incidentally, like me, you may enjoy a picture on Tim's website. No doubt taken during the emmensly successful Stargazing live event earlier this year. It show's Tim falling asleep in his chair with Dara Obriain looking on with Prof Brian Cox in the background. All the links online in episode 49. Here's Tim.
Summary of free public talks
Public Lectures
Mon 26th March 8pm All from Nothing : The Structuring of Our Universe Prof. Simon White
Wed 28th March 8pm The Juno Mission to Jupiter: What's Inside the Giant Planet? Prof. Fran Bagenal
Plenary Session Lectures
Tue 27th March 9am-10am The Square Kilometre Array Michael Kramer
Tue 27th March 5pm-6pm Probing the interior of Jupiter: NASA's Juno mission Fran Bagenal
Wed 28th March 9am-10am Frontiers in gravitational lensing Peter Schneider
Wed 28th March 5pm-6pm The protocloud and the large-scale environment of galaxies Joss Bland-Hawthorn
Thu 29th March 9am-10am Wonders of the solar atmosphere Alan Hood
Thu 29th March 5pm-6pm Astrophotography Nik Szymanek
Fri 30th March 9am-10am Catching Shadows: Kepler's Year-Three Exoplanet Census Natalie Batalha
Fri 30th March 3:45pm-4:45pm Cosmology in our backyard
Podcast: Play in new window | Download (8.1MB) | Embed
Subscribe: Google Podcasts | Spotify | RSS | More