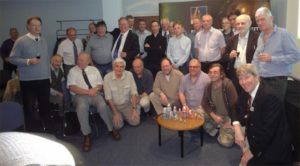 I attended the BIS Chinese Soviet Forum lat weekend, organised by Dave Shayler and Bert Vis. With 12 (yes -12!) speakers it was a cram packed day with each speaker's talk full of meticulous detail in a topic in which they were thoroughly experienced. Throughout the day, amongst their other duties, Steve Salmon, Suzann Parry, Mary Todd and Alistair Scott ensured all attendees had lots to eat and drink. Alan Marlow from Delta Vee recorded the whole day. Thanks to all who signed the petition to bring the Gagarin statue from London to Manchester.
There was so much content throughout the day it is impossible to to include it all in a single blog post. Here is a flavour.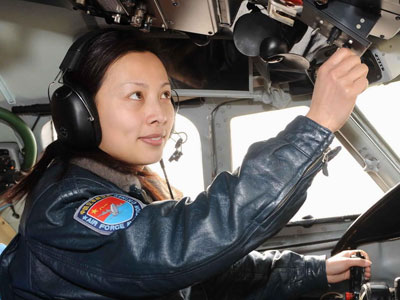 Pat Norris (who received an Apollo Individual Achievement Award from Neil Armstrong in August 1969 whilst working at NASA)  provided an expert analysis of an official paper published by the Chinese authorities in 2011. The paper discusses the Chinese achievements in the previous five years and outlines the plan for the next five.
Brian Harvey, who has written several books and is working on another about the Chinese space program, provided a summary of China's space program from origins to the present. Tony Quine, an active space sleuth, explained how he uncovers the details the Chinese authorities do not like to publish.  He predicted that the first Chinese female astronaut will be Major Wang Yaping.
William Carey and Jacqueline Myrrh highlighted a not for profit website specialising in news about the Chinese space program called http://go-taikonauts.com/en/.
Bart Hendrickx provided a fascinating insight into the NK-33 engines from the early Soviet era which may come into active use once more. George Spiteri reminisced by replaying actual recordings from short wave radio broadcasts clips of the Soviet Space era. At a time before the internet that was the only way to get to this type of information.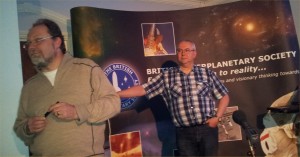 Bert Vis provided an update about the Yuri Gagarin Space Centre that he has frequently visited and where he will be going again this summer. David Shayler, spoke about the Russian ISS segment in so much detail, you would think he has been there!
Two topics that were pretty much new to me. Fritz Muse introduced Soviet RORSATS and Richard Williams provided a rich illustration of early Soviet philatelic items.
Dominic Phelan spoke about a new book he is editing. It is  not available until 2013 but just looking at the contributors – this should be compulsive reading.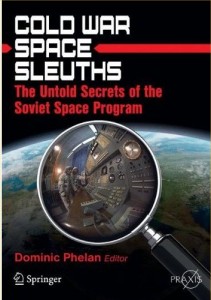 Cold War Space Sleuths: The Untold Secrets of the Soviet Space Program
Edited by Dominic Phelan.
Editor Dominic Phelan, giving an overall history of the Cold War hunt for Soviet space secrets.
Space writer Brian Harvey reveals his own personal search through official Soviet radio and magazines to find out what they were (and weren't) revealing to the outside world at the height of the space race.
Robert Christy gives a firsthand account of the famed Kettering Group.
Sven Grahn from Sweden details his own 40 year quest to understand what was happening on the other side of the Iron Curtain.
Professional American historian Asif Siddiqi explores his own adventures in the once secret Russian archives – often seeing documents never before read by Westerners.
Dutch cosmonaut researcher Bert Vis provides an inside account of the Yuri Gagarin training center in Moscow.
Belgian researcher Bart Hendrickx's details his important translation of the 1960s' diaries of cosmonaut team leader General Kamanin.
Pioneer space sleuth James Oberg's shares his memories of his own notable 'scoops' – including revelations about missing cosmonauts, the Nedelin rocket explosion and his trips to previously secret facilities after the fall of the USSR.
Paris-based writer Christian Lardier recounts the efforts of French space sleuths – whose work was frequently overlooked in the USA and Britain because of the language barrier.
As "one of the original" space sleuths, UK's David Shayler will write about his experience of recording the Soviet programme in the 1970s and 1980s .