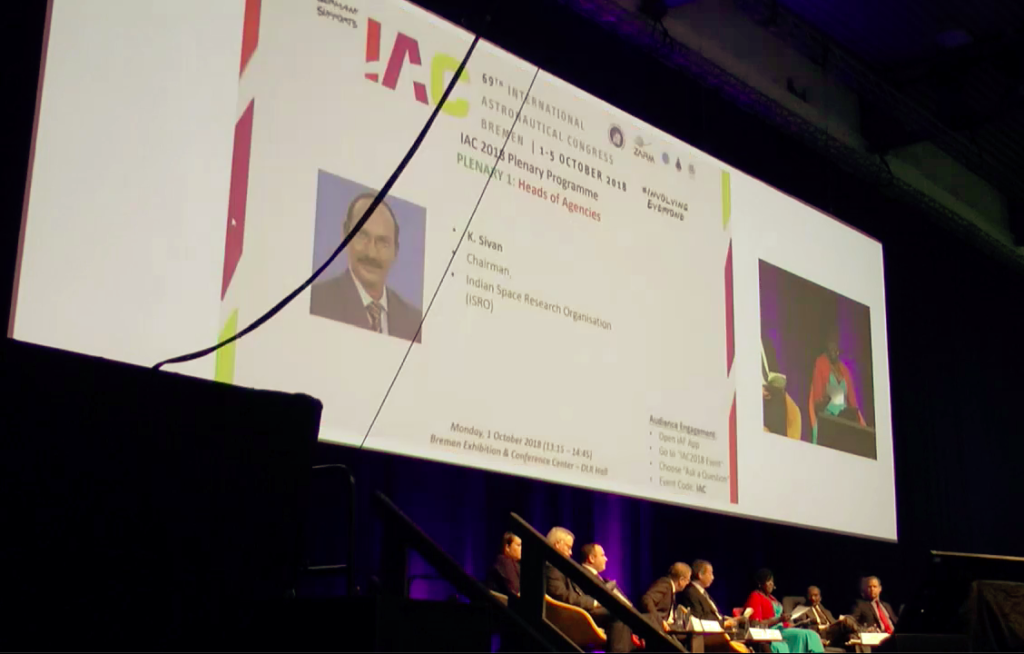 This is my recording of the Heads of Space Agency plenary session on 1st October – the first day of the IAC2018. It was not recorded with the intention to publish online. However, here it is unedited – for anyone who may benefit from it.
In Attendance:
Dmitry Loskutov in place of Dmitry Rogozin – (Roscosmos)
Hiroshi Yamakawa – (JAXA)

Johann-Dietrich Woerner – (ESA)
Maggie Aderin-Pocock (Moderator – BBC)
Jim Bridenstine – (NASA)
K. Sivan – (ISRO)
Sylvain Laporte – Canadian Space Agency
ZHANG Kejian China National Space Administration
Some of my notes below – Timeline (mins:Sec)
---
04:50 Jan Woerner – ESA
10:28 K Sivan – ISRO
15:16 Zang Kejian – CNSA (speaking via translator)
26 Launches since Jan 2018
Chang-e-4 Lunar rover before end of year (Relay sat already
launched)
5 More GNSS satellites before the end of year
Willing to collaborate internationally
Social, economic, climate change – support Asian – Asia and African
nations
China joint projects – Brazil, France, ESA, (Chang-e4 Sweden,
Germany, Netherlands, Saudi Arabia)
An announcement of opportunity 10kg payload available for
international partners on the Chang'e6 Sample return mission
CSS will be completed by 2022. Also, welcome international
cooperation on the CSS
Welcome international partners in its growing commercial space
market.
Established "Space Day" in China to encourage the younger generation
25:40 Hiroshi Yamakawa (JAXA)
Hayabusa 2 – Rover Minerva landed on Ryugu. Lander Mascot (built
by DLR/CNES)
MMX Mission to Mars
Asia Specific Forum – 25th anniversary in Singapore
JAXA welcomes international partners.
The combined budget of all space agencies around the world. 42.5
Billion (21.5=NASA).
30:18 Dmitry Loskutov (Roscosmos)
35:05 Sylvain Laporte Canadian Space Agency
44:10 Jim Bridenstine (NASA)
Hope to get 10k attendance in Washington IAC2019
Lunar gateway – Back to the Moon to stay. Sustainable open architecture open to commercial and international partners. It will also serve as a deep space transport to Mars.
53:10 Q&A
1:18:26 End