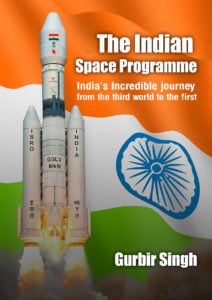 Title: The Indian Space Programme
Sub Title: India's incredible journey from the Third World towards the First
Overview: The story of the Indian space programme is described in 17 chapters, 600+ pages, 140+ illustrations, 8 appendices, 20+ tables and 1000+ endnotes.
Click here to Look Inside. Opens new Window.
---
"This is a good read for space professionals, for students and indeed non-specialist alike, particularly those with a special interest in India".  John Zarnecki in the August 2020 issue of  "COSPAR Space Research Today".
"A complete overview on all areas of Indian Space Efforts by looking at old traditions in Indian science and astronomy" Go Taikonauts 22/8/2018 http://www.go-taikonauts.com/images/newsletters/India_book-review.jpg
"a valuable guide to the common man to understand the Space Age"  25/11/2018 The Sunday Statesman (Newspaper in India) 
"India has always collaborated with USSR/Russia, USA, France and Israel" May 2018 edition of IndiaSe – a magazine for global Indians. Download pdf of review.
"a significant addition to the existing body of literature on the Indian Space Program". Book Review of The Indian Space Programme in the Jan-Mar 2018 issue of Indian Defence Review. Download pdf of review.
"This book is unique and as such is worth every penny or dollar and is an inspiration to a new generation who may themselves be inspired by the achievements so well documented and written up in this accessible tome. As a book it is a fascinating read and as a reference tool it is one I know that I will have continually on my bookshelf. Some 100 pages of more than 1,000 references make this book an invaluable asset which I cannot commend too highly." Amazon Review
"a snap purchase but one I have very much enjoyed" and "packed with the most incredible amount of detail" Amazon Review
"The book describes the evolution of India's activities in space in the context of Indian and global scientific and technological evolution. Reading the book is like walking down a broad avenue and exploring interesting side streets that appear from time to time"  https://www.geospatialworld.net/magazine/ (page 66). Download pdf of review.
"A true scholarly, and authoritative history. A landmark book." Dr Allan Chapman, Wadham College University of Oxford.
"Singh has done a masterful job of pulling together unique material and photos for a popular reader." Leonard David.
"This is a monumental book on the Indian space program, arguably the least covered major space program in the world. In over 600 pages, the author describes the organization and history of India's launcher and satellite programs. My conclusion was that if something is not covered in this book, it wasn't worth covering. Kudos to Mr.Singh for researching and writing such a complete overview. If you have any questions on India's space efforts, the answer will surely be here." Bert Vis
"Excellent book giving each and every single detail, not only about India's Space Programme, but also historical aspects of Europe, USA and Russian" Dr Rajinder Singh, University of Oldenburg, Germany.
---
Available now
---
Synopsis
At 18:25 on 21st November 1963, a rocket launched into space from India. It heralded the start of the Indian Space program even though the news of this achievement was lost in the midst of the global media coverage of the assassination of President Kennedy on the following day. Since those early days when a former Catholic church was the space programs headquarters and just about everything the Space program used came from abroad, India is now a leading spacefaring nation.
Today, India's space program is delivering on the vision of its founder Vikram Sarabhai, that Space Services should touch the lives of the ordinary people of India. With every orbit of India's growing number of satellites, the quality of the lives of millions of Indians is enhanced by space-based services in agriculture, healthcare, commerce, communication and education.
Over the last half-century, the Indian Space Research Organisation (ISRO) has constructed a substantial collection of weather and communication satellites delivering tsunami, typhoon and flood warnings, search and rescue services and direct-to-home television broadcasts. ISRO sent a spacecraft to the Moon in 2008, to Mars in 2013 and placed a space telescope in Earth's orbit in 2016. Of the 1167 satellites in orbit, 75 were made in India, and 35 are in operation today. The space program is the epitome of India's journey from the third to the first world.
This book provides the big picture of India's long association with science, from historical figures like Aryabhata and Bhaskara to Homi Bhabha and Vikram Sarabhai, the key architects of its modern space program. It traces the technological development of Tipu Sultan's use of rockets in large-scale warfare in the 1780s; the all but forgotten contribution of Stephen H Smith who established a world record by transporting parcels and livestock by rocket power in 1935 in northern India; the detailed first-hand account of India's first space launch in 1963 from those who were present at the time and concludes by looking at ISRO's current and future goals.
Key questions about the Indian Space Research Organisation are answered in the pages of this book. What type of launchers has it developed? How are the ordinary people of India benefitting? How did ISRO go to the Moon and Mars? What are the prospects for India's ambitions for human spaceflight, military and science projects? Will India compete or collaborate with China, USA and Russia?
Richly illustrated with pictures, many published for the first time, this one book written for the non-specialist offers a comprehensive view of India's space program – its history, current status and future ambitions, all in one place.
An overview of the contents below.
---
Contents
About the Author
List of Figures
List of Tables
Introduction
1.      Rise of National Space Programmes
Tipu's Rockets
Rockets and Empire
Space Rockets
National Space Programmes
Founding Fathers of Modern Rocketry
Scramble for German Rocket Technology
Korolev, the Chief Designer
von Braun and the Moon
Sarabhai and India's Space Programme
2.      From Vedic Astronomy to Modern Observatories
Colonialism and Renaissance
The Great Trigonometrical Survey
Madras Observatory
The Madras Catalogue
Discovery of Helium
The Earth-Sun Distance
Kodaikanal Observatory
The Evershed Effect
Other Observatories
3.      Emergence of Scientific Institutions
Aligarh Scientific Society
Indian Association for the Cultivation of Science
Council of Scientific and Industrial Research
Indian Institute of Science
Tata Institute of Fundamental Research
Scientific Temper
4.      Science and the Raj
Jagadish Chandra Bose
Srinivasa Ramanujan
CV Raman
Satyendra Nath Bose
Homi Jehangir Bhabha
5.      India's Forgotten Rocketeer
Air and Rocket Mail
Rocket Mail and World War II
Smith's Personal Life
6.      Vikram Sarabhai: Leadership by Trust
Education
Sarabhai Family and Gandhi
Marriage
Peaceful Uses
Sudden Peaceful Death
7.     First Launch
Indian National Committee for Space Research
Thumba Equatorial Rocket Launch Station
Pakistan's Space Agency
First Launch in India
One Village One Television: SITE
SITE Infrastructure
8.     Inside the Indian Space Research Organisation
Vikram Sarabhai Space Centre
Space Applications Centre
ISRO Satellite Centre
Liquid Propulsion Systems Centre
ISRO Telemetry, Tracking and Command Network
Master Control Facility
Recovering Costs – Antrix
9.     India's Spaceport
Mission Control Centre
First Launch Pad
Second Launch Pad
Solid Propellant Booster Plant
Local Propellant Facilities
Launch Dynamics
10.   ISRO's Rockets
Inertial Guidance System
Satellite Launch Vehicle (SLV-3)
Augmented Satellite Launch Vehicle (ASLV)
Polar Satellite Launch Vehicle (PSLV)
Geosynchronous Satellite Launch Vehicle (GSLV)
Launch Vehicle Mark 3 (LVM3)
GSLV Mk3
Future Launch Vehicles
Reusable Launch Vehicle (RLV)
Scramjet
11.    Struggle with Cryogenic Technology
India's Cryogenic Engine
Russian Roulette
Missile Technology Control Regime
Commercial Space Services
12.   Satellites and Saris
India's First Satellite: Aryabhata
Earth Observation: Bhaskara and IRS
Bhaskara 1 and 2
IRS-1A
Remote Sensing Instrument
Data from Earth Observation Satellites
Ariane Passenger Payload Experiment
Communication Satellites
INSAT 1 Series
INSAT 2 Series
Education and Defence
Satellite Assisted Search and Rescue
13.   Indian Regional Navigation Satellite System
Space Segment
Ground Segment
User Segment
Navigation Satellite
GAGAN: GPS Aided GEO Augmented Navigation
Global Navigation Satellite Systems
14.   Human Space Flight
India's First and Only Astronaut Rakesh Sharma
Still-born Astronaut
Roadmap for Human Spaceflight
15.   Moon, Mars and Science
Destination Moon
Building Chandrayaan-1
Many nations, one spacecraft
Moon Impact Probe
Journey to the Moon
Science from Chandrayaan-1
Chandrayaan-2: Journey to the Lunar Surface
Why India Went to Mars
From Sriharikota to Mars
Science from Martian Orbit
Astrosat – Astronomy from Orbit
Operational Status
Future Science and Interplanetary Missions
16.   Space and National Defence
Space Infrastructure
For All Mankind
War and Space
Anti-Satellite Weapons
Space Debris
17.   The Road Ahead
Satellite TV—Demand and Supply
Private Sector
Research and Development
Global Space Market
Rockets or Roti
Regional Space Power
International Collaboration
Value of Space
Chasing a Chimera?
Appendices
Abbreviations
List of Interviews
Indian Currency
Types of Orbits
Satellite Communication
International Treaties
ISRO Spaceflight History
Index
Endnotes