During the short presentation including pictures that did not make it into the book, the author will outline the book contents, his motivations for writing the book, the research conducted and take questions.
Free to all but need to book online here. Includes drinks (wine and soft drinks) and snacks and no need to buy a book!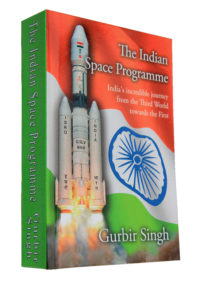 Title:     Book Launch – The Indian Space Programme
Date:    Friday 16th March 2018
Time:   18:30 – 20:00
Venue: International Society, William Kay House, 327 Oxford Road, Manchester, M13 9PG. Map
Cost:    Free, includes soft drinks, wine and snacks. Book purchase is not necessary.
Schedule
18:30 – Open for guest – drinks and nibbles
19:00 – 19:30 – Presentation by the author
19:30 – More drinks (inc. wine) and nibbles and book signing
20:00 –  End
Fifty years in the making, India's Space Programme is fulfilling the vision of its founders and delivering services from space that touch the lives of 1.3 billion people every day. In addition to operating a collection of satellites for weather, Earth observation, navigation and communication, today India has a spacecraft orbiting Mars and a space telescope in Earth orbit.