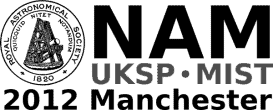 Although I did not manage to speak to everyone I had hoped to, no one ever said no to my request. Thanks to all of you especially Professor Natalie Batalha  with whom I could not find a matching time slot. Also thanks to Robert Massey and the RAS, all the individuals in the NAM2012 t-shirts and especially JBCA staff including  Professor Phillipa Browning  who as I saw at the last plenary session – pretty much exhausted.
It was also great to see so many familiar faces from Manchester Astronomical Society and Liverpool Astronomical Society who brought their solar telescopes to take advantage of the now typical Mancunian sunny skies. A great week for astronomy and Manchester congratulations to all who made it happen.
I did some recordings on Thursday and Friday as listed below.  I will put out the podcasts in coming weeks.
* * *
Thursday 29th 
Nik Szymanek One of the country's most familiar names in astrophotography.  For someone who spends much of his time staring at the heavens Nik is a very down to Earth kind of guy.  Amongst other things, Nik spoke about his new adventure, a remote telescope based in Spain. I first spoke to Nik back in 2008 in episode two.
Friday 30th
Professor David Southwood as a former ESA director of Science is a familiar face in UK space and astronomy meetings. I first came across him in 2008 to for this video interview.
My chat with him this time was equally unplanned and unrehearsed. Now that he has retired, I thought it would be fun to play a game of Dessert Island Space Discs, celestial bodies that perhaps he has been in some way associated with during his carrier, where he may wish to be shipwrecked. He played along. We only had time for four, his first choice.. was Enceladus. Great fun.
Professor Albert Zijlstra :  Although he is the director of Jodrell Bank Centre for Astrophysics over 20 miles away, I recorded the interview in his office in a new building on Upper Brook street. We spoke about the very broad approach of NAM2012. Schools, amateur astronomers and the public seemed to be an integral element from the start.
Mark Purver from the Jodcast team provided a brief overview of how the Jodcast got started. If you missed NAM2012 altogether, check Jodcast archive  for a flavour of the whole week. Mark and the team put together an episode per day during the meeting.  There is a whole lot else there too.
Professor Mike Bode  has been the driving force behind the Liverpool Telescope project from the beginning. A huge telescope built and operated to professional standards is also available to school kids and amateur astronomers.