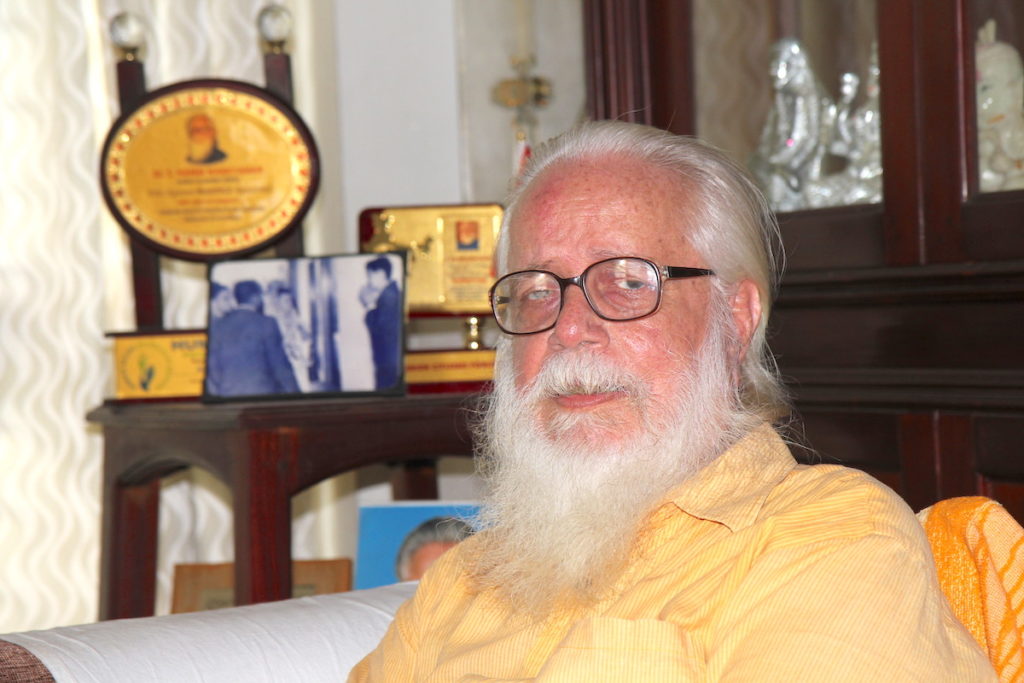 One of the most fascinating and colourful characters associated with the Indian Space Programme is Narayan Nambi.
In 1994, Nambi Narayanan an ISRO aerospace engineer was falsely arrested by the Investigation Beuro on charges of espionage. He was accused of passing on confidential launch vehicle flight test data to foreign nationals. In 1996 he was cleared by the Central Investigations Bureau and India's Supreme Court found him not guilty in 1998. In 2019 he was presented with India's third-highest civilian award, the Padma Bhushan.
In 1966 he joined ISRO or INCOSPAR as it was known at that time. With the guidance and support of Vikram Sarabhai, he went to study liquid and cryogenic engine technology at Princeton in 1969. He worked on the early stages of the development of the Vikas liquid engine which now powers two of the four stages of the PSLV.
Some of the topics we discussed include:
During the 1960s he visited the Spadadam site near Carlisle. Today it is a Royal Airforce Station but in the 1960s it was the site used by the British Government test rocket engines and to develop Blue Streak – an Intermediate Range Ballistic Missile.
In 1974 ISRO concluded a barter arrangement – no money changed hands. India would provide 100 man-years trained engineers. 75% of this time would towards supporting France developing their (then new) Ariane 1 launcher and 25% would be used by India to develop the Vikas Engine with the technology transfer from France. Indian engineers would also build, test and qualify 100,000 pressure transducers for France.
He claims to be the architect of this unique barter arrangement. In addition to being the father and architect of the PSLV.
He suspects that the intelligence Beuro picked on him to slow down the Cryogenic engine development and remove him as project director.
Speculating on the why the Vikram lander failed to make a soft landing he thinks it may have been related to the automatic landing sequence (software) or an issue with the braking thrusters.
He is an advocate of an Asian Space Agency lead by India.
He believes China space programme is not ahead of India's because India has succeeded with the Mars Orbiter Mission.
He would like India and China to increase collaboration in space.
In 2017, he published a book on his experiences and a film based on the book will be released in late 2019.
Podcast: Play in new window | Download (Duration: 47:52 — 67.9MB) | Embed
Subscribe: Google Podcasts | Spotify | RSS | More
---