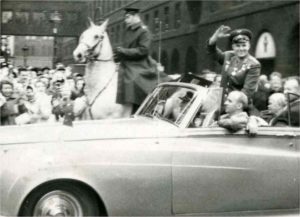 On his first visit outside the eastern bloc, Yuri Gagarin arrived in London for a 5 day visit on Tuesday July 11th 1961. He was greeted with a tumultuous and sincere warm welcome everywhere he went including his meetings with the Prime minister and the Queen. The British government juggled with acknowledging Gagarin personal courage and the Soviet Union's historic technological achievement whilst assuring its allies, USA, France and West Germany that the visit would not be exploited exclusively as a communist propaganda opportunity.
When the Manchester based Amalgamated Union of Foundry Workers discovered that Gagarin had trained as a foundry worker, they invited him to join their union as a honorary member. He came to Manchester on 12th July and visited the union office, the Metrovicks plant in Trafford Park and the city's town hall before flying back to London six hours later.
During the late seventies I had lived near this union office and only discovered in 2010 that Gagarin had actually been there. I looked but failed to find any books on the subject so I decide to write one. It is called "Yuri Gagarin in London and Manchester" and attempts to fill in a small bit of the Gagarin story.
The first and last chapters describe Gagarin's flight, some of the key individuals involved, the air crash that claimed his life in 1968 and his personal impact as an advocate of peace during the Cold War. In the remaining chapter – 2-7, I document the background to his invitation and details of where he went and who he met. Some of those recollections are the subject of this episode. It includes clips from Captain Eric Brown and Reg Turnill, longer versions of which are available in episodes 40 and 41. My thanks to those who contributed to this episode – Reg Turnill, Dame Kathleen Ollerenshaw, Brenda Knowles, Marjorie Rose, Stanley Nelson, Captain Eric Brown and Stanislava Sajawizc.
Yuri Gagarin in London and Manchester
185 Pages, 27 Illustrations
ISBN 978-0-9569337-0-6
Paperback £10.00 (+postage) and eBook (iPad and Kindle) £2.50 available from publications@astrotalkuk.org
Download a pdf of the page of contents, Chapter 2 "An Uneasy Invitation" and the text above or all three in a zip file.

Podcast: Play in new window | Download (10.6MB) | Embed
Subscribe: Google Podcasts | Spotify | RSS | More
Recollections of Yuri Gagarin in London and Manchester from AstrotalkUK on Vimeo.