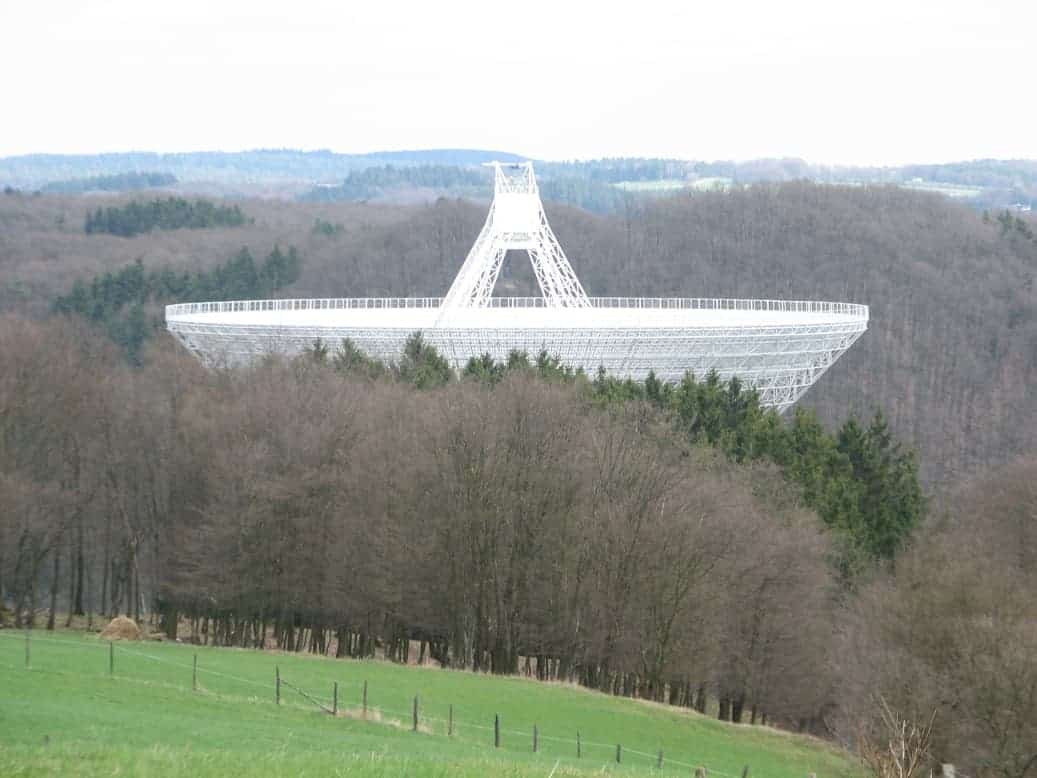 Nestling in a valley amongst the rolling green hills of the Eifel region of western Germany is the 100m Effelsberg steerable radio telescope. Similar to the Lovell telescope at Jodrell Bank which is on the plains of Cheshire in northwest England which can be seen from miles away. The  Effelsberg telescope  is situated in a valley so it easy to pass close by and not see it.
It is an international facility. Participating in Very Long Base Interferometry (VLBI) where physical links are necessary with other countries it also hosts astronomers from many other countries  and participates in global research projects. Although its website may appear a littel dated, Effelsberg has a surprisingly rich online presence including the current schedule and of course the now mandatory webcam.
Effelsberg is a leading player in a new international project called LOw Frequency ARray or LOFAR.  Lofar targets the low frequency range between 10MHZ and 250MHZ. However, for many years commercial FM radio stations, the local emergency services and the aviation industry have been using frequencies between 90MHZ and 108MHZ so Lofar range is split in to two bands. Low (10-90MHZ) and high (108 – 250MHZ). Thus there are in fact three telescopes at Effelsberg.
On a recent visit, Dr Norbert Junkes talked about the previous, current and new activities taking place at Effelsberg.
Podcast: Play in new window | Download (320.0KB) | Embed
Subscribe: Google Podcasts | Spotify | RSS | More