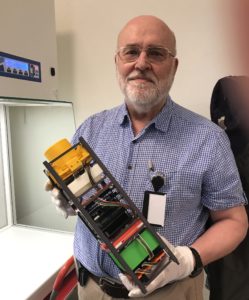 Sven Grahn has been working in the space field in one way or another for over fifty years. Officially retired, he continues to work as a project leader of a student satellite at the Royal Institute of Technology in Stockholm.
He is perhaps best known for his work in tracking satellites launched by the secretive Soviet Union during the 1960s and 1970s.In those pre-internet days, his work along with others helped to identify individual mission characteristics such as mission types, members of the crew, take off and landing times. He recorded over 1000 conversations from orbiting spacecraft as they flew over Sweden.
In this interview, he speaks about
The impact of the space race on his choice of career
His work on sounding rockets and meteorology in Sweden and beyond
Satellite tracking. What he tracked, heard and recorded using radio and tape recorders.
How he came to research and write about the satellite tracking conducted at Jodrell Bank radio telescope in England
As an 11-year-old, Sven had seen Sputnik in the sky over Sweden with his own eyes. I started by asking him how the onset of the space race had impacted his choice of career?
Podcast: Play in new window | Download (0.0KB) | Embed
Subscribe: Apple Podcasts | Google Podcasts | Spotify | RSS | More