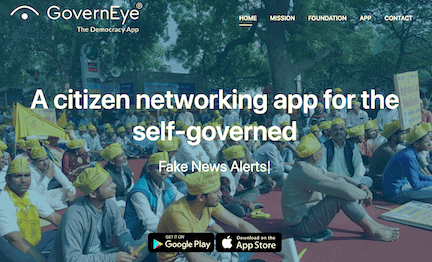 I came across an interesting App on my Twitter feed a few weeks ago. A new startup in India has developed an app accessible only via cell phone on both the iPhone and Android platforms. Its called GovernEye and is designed to facilitate democratic engagement by allowing voters, elected politician and all stakeholders to communicated in multiple languages across India. All user posts are moderated, filtered foul language and checked against authoritative fact-checking services.
Here's the unique thing, unlike Twitter or Facebook – GovernEye does not ask for Personal Identifiable Information like an email address or the cell phone number of its users. Its eventual funding model relies on targeted ads. So if no personal information is collected how are those ads targeted? Whilst data collected during registration does not uniquely identify individuals, data such date of birth and level of education and languages spoken is collected. This information is used to identify broad categories of users and it is these categories that are targeted by paid adverts.
There are many examples where social media has been used to corrupt democratic institutions and processes. Is GovernEye a potential solution for modern democracies around the world?
GovernEye is free for any users in or outside India and currently in pre-release phase and is expected to launch later in 2019. In this interview with GovernEye founder Anant Ahuja – I started off by asking him what was the problem that GovernEye set out to solve. Some of the topics we discuss include:
The process of user registration does not require personally identifiable information data (no email, name or telephone) is required for users to register for this app.
Initially, GoverEye was only available via a browser-based front end. Some users continue to continue to use the browser front end. Eventually, GovernEye will only be available via an App (Android and Apple) not available via a website.
GovernEye has no connections to Application Programming Interfaces (API) with other applications. User account creation must be a manual process.
Users' approximate location can be inferred from the IP address, choice of voting constituencies and language preferences. Explicit user location is not collected.
India some villages share a single cell phone between multiple users so it is common to have multiple users associated with a single device.
Podcast: Play in new window | Download (Duration: 51:37 — 41.4MB) | Embed
Subscribe: Apple Podcasts | Google Podcasts | Spotify | RSS | More