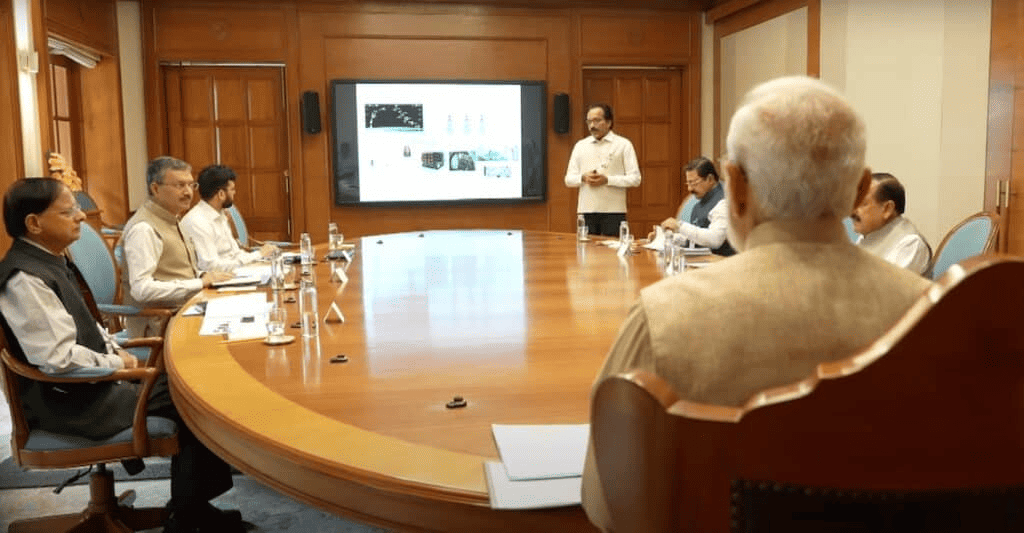 On October 17th 2023, the Indian Prime Minister voiced India's intentions to build a space station by 2035 and to send the first Indian crewed flight to the Moon by 2040. The formal announcement by the Press Bureau of India (text below) followed an in-person presentation to the Prime Minister by the ISRO chairman – S Somanath. The intention to establish an Indian space station was first announced in 2019 by the then ISRO chairman, K Sivan. Although this announcement is more formal and official, it is not much more than a press release. As significant as this public political undertaking, coming from the office of the prime minister is, there is no formal commitment of the funding to go with it. Yet. This is not unusual. India does not always employ a formal, structured long-term approach, like that for example of China's rolling five-year plans. India's journey towards a space station and eventually crewed flight to the surface of the Moon may be a little erratic and may even include a few cul-de-sac, it will get there.

The objectives and target dates for grand national programmes, for example USA's Apollo programme of the 1960s, are usually determined by geopolitical rivalries. Then it was the USSR then but now it is the rapid growth of China's space programme that motivated the USA's Artemis to return to the Moon by 2025. The impetus for India's date for the "first Indian to the Moon by 2040" is also China which has its target date for its first crewed mission to the lunar surface by 2030. In practice I suspect India will push that 1940 date to 1947 – the centenary of Indian independence.
The prime minister's decision came on the back of the success of the lunar Chandrayaan-3 mission and the many-years-delayed launch of India's first solar observatory, Aditya-L1. ISRO is also expected to undertake an uncrewed in-flight abort test on 21st of October 2021 of its crew module. This is one of the several tests towards India's first crewed flight, known as the Gaganyaan mission. Targeted for 2025, the Gaganyaan mission will take a crew (nominally of three – but I will reckon it will be two) on probably a 24 hour flight to low Earth orbit.
The announcement, unhelpfully refers to a the HLVM-3 – the human rated LVM-3. This is unfortunate and so soon after ISRO, earlier this year, appeared to have settled on a naming convention of LVM-3 instead of of GSLV-3.
---
Prime Minister reviews readiness of Gaganyaan Mission

Indian Space Station to be set up by 2035

India to send Man to Moon by 2040

India to undertake missions to Venus and Mars
Posted On: 17 OCT 2023 1:53PM by PIB Delhi
Prime Minister Shri Narendra Modi chaired a high-level meeting to assess progress of India's Gaganyaan Mission and to outline the future of India's space exploration endeavours.

The Department of Space presented a comprehensive overview of the Gaganyaan Mission, including various technologies developed so far such as human-rated launch vehicles and system qualification. It was noted that around 20 major tests, including 3 uncrewed missions of the Human Rated Launch Vehicle (HLVM3) are planned. First demonstration flight of the Crew Escape System Test Vehicle is scheduled on 21 October. The meeting evaluated the mission's readiness, affirming its launch in 2025.

Building on the success of the Indian space initiatives, including the recent Chandrayan-3  and Aditya L1 Missions, Prime Minister directed that India should now aim for new and ambitious goals, including setting up 'Bharatiya Antariksha Station' (Indian Space Station) by 2035 and sending first Indian to the Moon by 2040.

To realize this Vision, the Department of Space will develop a roadmap for Moon exploration. This will encompass a series of Chandrayaan missions, the development of a Next Generation Launch Vehicle (NGLV), construction of a new launch pad, setting up human-centric Laboratories and associated technologies.