On 21st December 2014 ISRO updated its website (www.isro.org duplicated at www.isro.gov.in).  Even over the first few days after the update there have been additional minor updates so some of the screen dumps below may not precisely match what you may see.
Although there are still some shortcomings, the new clean, fresh user interface offers simpler navigation to information that has largely always been available but is now easier to get to. The new website is welcomed for another reason. Until the launch of ISRO's Mars Orbiter Mission, ISRO did not really invest time and effort in its interface with the public. ISRO's online presence is an international resource not just a national one. It is not useful only for the Indian nationals living abroad but the growing global community fascinated by space exploration and sees ISRO contribution as a critical endeavour for humanity's future beyond Earth.
ISRO publishes much of what it does but could do more. Why the reluctance?  Could it be that ISRO feels a little overwhelmed by the established players with their substantial budget and impressive achievements? Material published after the demise of the USSR indicated it used its accomplishments in space to revive its global reputation. The launch of Sputnik in 1957 and then Gagarin six years later, changed how the USSR was perceived by the international community. ISRO is likewise helping India to step outside the shadow of a third world country. January 2014 started with a successful test of its indigenous cryogenic engine and ended with an equally successful crew module test launched atop its largest rocket GSLV3 in December. There was also a small matter of its Mars Orbiter Mission arriving at Mars in September to global acclaim. Although ISRO is finally beginning to recognise the strategic value of engaging with social media including Facebook, YouTube and Twitter, the engagement to date is at best – just a start.
Before highlighting some of the upsides of the updated website, I will start with an omission which oddly I found personally extremely  disappointing.

The vision expressed in the original homepage "The Indian Space Research Organisation Space Technology in the service of Human kind". What it meant to ISRO or what it should mean to others was something ISRO never explained.  I was surprised by how sad I felt to see it missing. It did echo of something greater than just national ambitions and in using Humankind and not Mankind, ISRO hinted at a more pluralistic and egalitarian vision.  It is a key omission which I hope ISRO will reinstate in a future revision.
OK so what's new. The 1990s style website which used multiple fonts of different sizes, colours and styles and the animated gifs has given way to a new uncluttered, slicker and clean home page. It is easier on the eye and consistent with modern web designs. Although potentially slow when using the mobile 3G network the new website has been optimised for mobile phone access.  The ISRO timeline (available via the About page or Footer) lists clickable hyperlinks to key ISRO  milestones from 1962 to the present works surprisingly well even on a mobile phone, although ISRO itself was formally established in 1969.

Instead of cramming the home page with information, the new top-level menus point to specific areas like Missions, Spacecraft, Launchers, Applications, Media and About. The home page has many high quality images you only get to see if you scroll down. Excellent images but the home page is probably not the best place for them. First time visitors, especially those using mobile devices or low-bandwidth connection will experience a slow and disappointing response. For the first time, hi-res images and videos are now available under the Media menu. Announced almost a year ago ISRO's dedicated YouTube channel has not yet made an appearance.
Shortening the length of the home page would also allow visitors easier access to the footer which really does contain some useful links (i.e. International Cooperation, Space Policy and ISRO's Data Portal) that may otherwise be overlooked.    The redesign could also include a window to ISRO's twitter feed.

One of the lesser known of ISRO's sources is its Data Portal. By definition, as a portal it is not a data repository but a collection pointers to resources. Many of these sources have been available for a long time but have largely gone unknown and therefore unused. Although there is a need to increase the quantity and quality of the data available,  through this portal ISRO makes available the services for which ISRO was established directly to the public.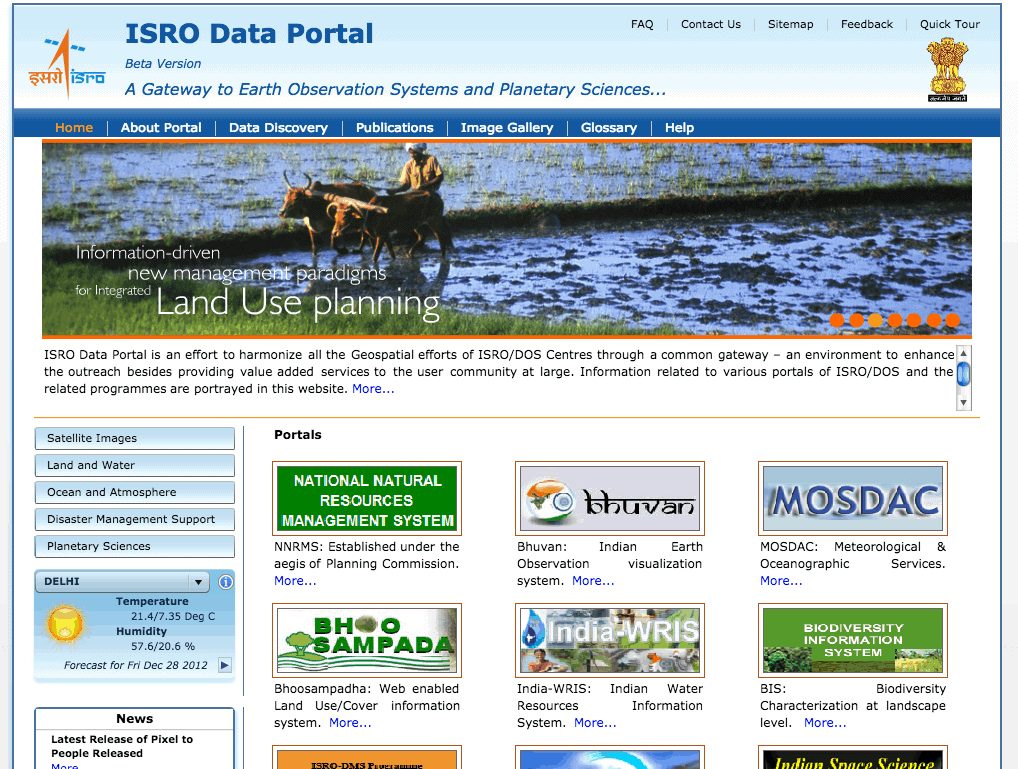 The publications section has several brochures and documents for download in pdf format. Although it has some way to go, one of the more mature products from ISRO is known as Bhuvan.
Bhuvan is a multi-language Graphical Information Service available for and developed in India using indigenous datasets. Bhuvan, meaning Earth is a Google Maps like service launched in 2009. It provides high resolution 2D and 3D maps of many parts of India using satellite data collected over many years. The services available include
Disaster Services – which include realtime and historical information on Cyclone, Drought, earthquake, Flood, Fire and Landslide.
For Indian fisherman ISRO advisories known as Potential Fishing Zone (PFZ), recommends where they should go and fish.  These advisories are generated using Sea Surface Temperature and relative abundance of Chlorophyll derived from satellite imagery.
Ministry of the Environment and Forest – plot of lakes & rivers, land degradation and land use (since 2005-2011)
Bhuvan is an indian service designed for the benefit of the Indian population using using indigenous data and infrastructure. It is governed by the 2011 Remote Sensing Data Policy, so whilst that policy restricts public access to high resolution data for areas deemed to be in the interest of national security, the  same data is freely available to anyone via Google Earth.
This is the first overhaul the ISRO website has received in several years. Although there is much more  available than indicated in this short review, ISRO is not yet exploiting the full potential of social media.  In the global headlines that followed the success of the Mars Orbiter Mars, ISRO's ability to bring costs down featured prominently. Sure, every rupee spent on publicity is a rupee  unavailable to its space program. But that is a false economy.
No one does outreach and publicity better than NASA but no one has a similar budget or the long-standing tradition. ISRO may not have the marketing skills or the experience but it does have the technical skills and the tech savvy people who can exploit social media.  ISRO needs a greater strategic commitment to policy, procedures and resources to showcase its achievements.    A greater use of its twitter account (say at least one tweet per day)  is one easy win that ISRO can implement right now without excessive cost or effort.
ISRO has notched up some truly remarkable achievements to date and has ambitious plans for the coming years. ISRO has a very poor track record of recording its activities that future historians (and ISRO itself) will lament. Of all the media – social media is probably the least expensive and most effective. Now that ISRO has recognised its value it should step up and engage with it fully.