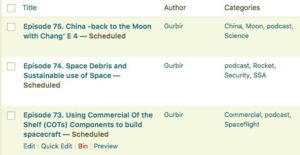 Its been a while since I posted episode 72.  Now that the book The Indian Space Programme has been published, I am resuming the podcasting. You can see some Amazon Reviews and if you have one, add your own too. More about that book on this short BBC radio interview here.
Podcast: Play in new window | Download (0.0KB) | Embed
Subscribe: Apple Podcasts | Google Podcasts | Spotify | RSS | More
.
If you want you can subscribe to my monthly newsletter. The previous newsletter (March 2018) available here. April's newsletter coming out tomorrow!
Scheduled episodes currently looks like this
Episode 73. Dr. Rajan Bedi – Using Commercial Of the Shelf (COTs) Components to build spacecraft (1st May 2018)
Episode 74. Dr Brian Weeden –  Space Debris and Sustainable use of Space (18th May 2018)
Episode 75. Dr Quan-Zhi Ye.  China – Back to the Moon with Chang'e 4 (1 June 2018)