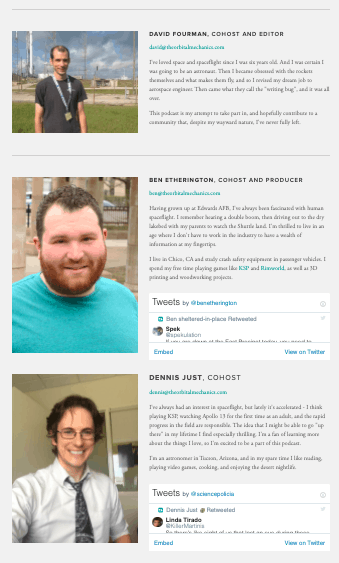 I listened to this week's episode on https://theorbitalmechanics.com/ and learnt nothing about orbital mechanics or space. But did walk away with something much more profound. I have listed a few of the points from the episode below but take a listen yourself here.
It was by chance that I bumped into Ben Etherington, David Fourman, Dennis Just and Richard Durdan on the final day of IAC2019 in Washington DC in October last year. All five of us had dinner. A huge bowl of noodle ramen, a memorable first for me. They paid.
Afterwards, we walked back to the Air BnB place and chatted about space, podcasting and of course the IAC itself whilst Dennis started to pack for his early morning return flight. I was already a listener to their podcast before our meeting. I continued to listen and learn from an exquisitely well-produced weekly show.
This week's episode was entitled Black Lives Matter and probably the most influential of the 263 episodes so far. David could not be present. The episode was a conversation between Ben and Dennis. Some of the points discussed include..
Ben declares that he is "conflict-averse". (Me too but you guys had the balls to put this episode together.)
Call to action: Educate yourself. Not good enough to be non-racist. Actively be anti-racist
We are being killed (this in a conversation between as they say – two white guys)
Don't let small things slip by. Speak out.
Support black-owned businesses.
Donate to Black Lives Matter organisations.
It's important to be political.
Demilitarise the police. (Three weird, surprising, poignant and shocking words for those of us not in the US.
Address root causes of crime rather than attacking people who have been victims of those crimes.
History of state terrorism against the black community.
This is systemic, historical and going on for a long time because we are good at hiding this from ourselves.
This injustice won't end this year or next year. It is fashionable to talk about this subject now but we need not to stop talking when it does.
Ben referred to a comment that he should keep away from this subject because otherwise "You are going to drive away your audience". I think you may increase your audience. Even if you do not – this episode demonstrates something more important – the value of doing the right thing. It did not happen in the past. We were not there then but are here now. It's up to us.