April 12th 2020 marks the 59th anniversary of Yuri Gagarin's historic spaceflight. Gagarin received numerous invitations from around the world and Britain after his successful spaceflight. Exactly three months later he came to manchester.

Mr Yarotsky, Counsellor of the Soviet Embassy in London noted that "Gagarin had received invitations from over fifty individuals and organisations in this country including the mayor of Newcastle, several trades unions and British Interplanetary Society."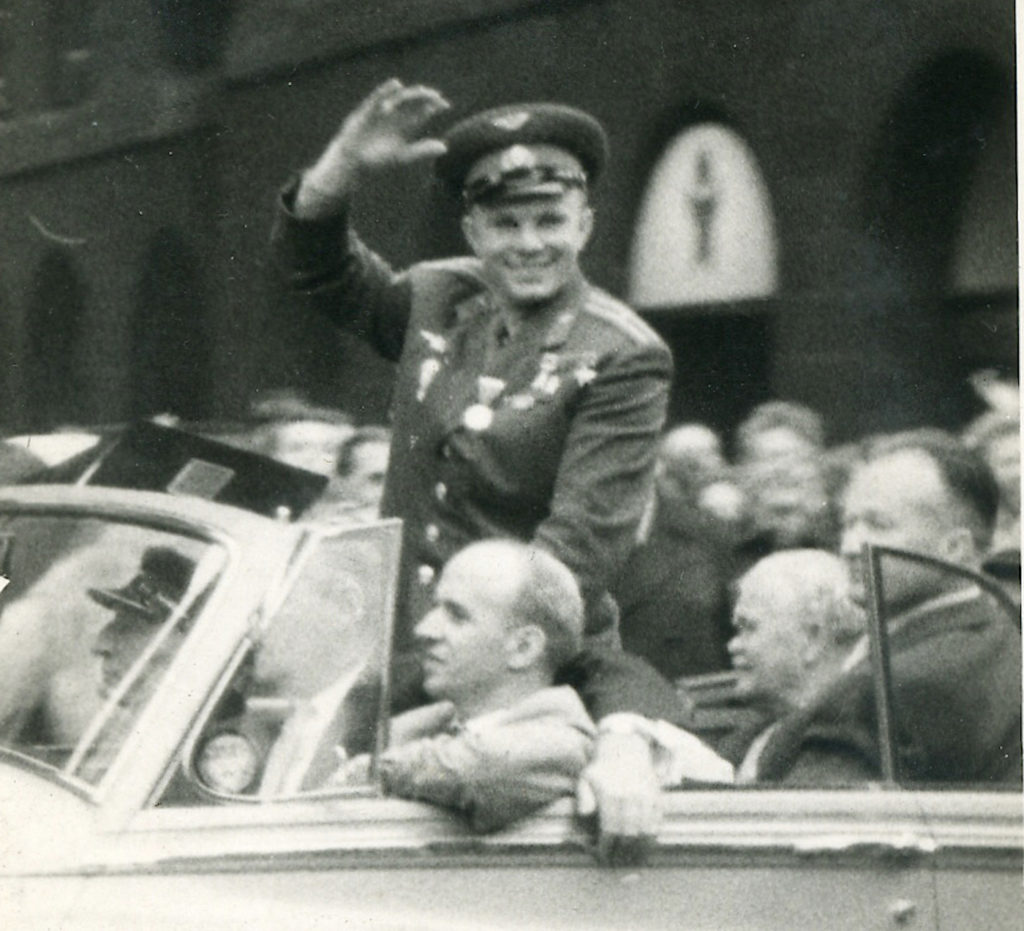 The 5 nights Gagarin spent in Britain were all in the USSR embassy in London. He spent all of his time in London with the exception to a day-trip to Manchester on Wednesday 12th July.
He accepted the invitation from the Amalgamated Union of Foundry Workers and visited their HQ in Old Trafford in Manchester. Followed by a trip to Metropolitan Vickers in Trafford Park and a civic reception in the Town Hall where Bernard Lovell from Jodrell bank was also in attendance.
This was his only visit outside London.
---
Gagarin in Britain: Timeline 
Tuesday 11th July
10:30 Arrival at Heathrow
11:45 Soviet Embassy
15:00 Press conference in Fashion Hall Earl's Court
16:15 BIS medal award at end of the press conference
16:30 Leave Earl's Court
17:30 Evening reception at Soviet Embassy
Wednesday 12th July
10:00 Arrival at Ringway airport in Manchester
10:45 AUFW Medal Ceremony
12:45 Manchester Town Hall
16:30 Arrived at the airport for his return flight to London
Thursday 13th July
11:00 Mansion House – Lord Mayor of London
11:45 Tower of London – Gv. Sir Thomas Butler
13:20 Burlington House – Royal Society
15:00 Return to USSR Embassy
15:45 Meet PM at Admiralty House
16:30 Air Ministry in Whitehall – Secretary of State for Air
18:00 Hyde Park Hotel GB USSR Association
19:30 Muscovites-Association cancelled. Sightseeing tour instead
22:15 Back at USSR Embassy
Friday 14th July
12:50 Buckingham Palace
14:45 Soviet Embassy
15:30 Earl's Court
16:00 Highgate Cemetery
16:40 Soviet Embassy – British Soviet Friendship Society
21:00 Earl's Court Live BBC TV interview (at 21:30) from
Earl's Court with Richard Dimbleby, Tom Margerison, science editor of the Sunday Times, and Yuri Fokin of the Soviet Television Service
22:15 Soviet Embassy
Saturday 15th July
11:00 Leave Soviet Embassy for Airport
11:45 Press conference at London Heathrow
12:35 Depart for the Soviet Union