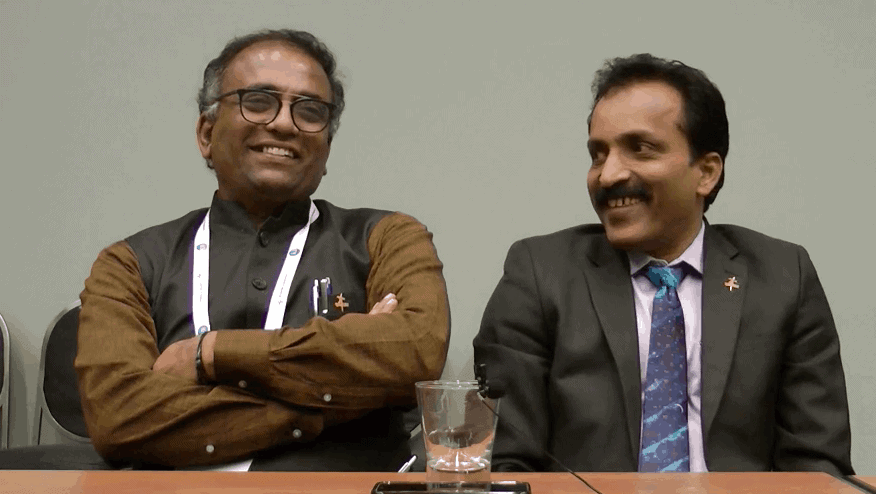 This interview with S Somanath (director of the Vikram Sarabhai Space Centre) and R Umamaheshwaran (Scientific Secretary) was recorded on 24th October 2019 during the International Astronautical Congress in Washington DC. It was not focused on a specific theme but rather an update on all things ISRO – current and future activities. We spoke about ISRO's potential participation with NASA on its Artemis programme, ISRO's innovative Orbital Platform (repurposing the 4th stage of a PSLV), Human Spaceflight and Gaganyaan, Small Satellite Launch Vehicle, Semi Cryogenic engine development, potential new launch site Kulasekharapattan, Chandrayaan-2 and future international collaboration.
The award-winning book mentioned is Integrated Design for Space Transportation System by B.N Suresh and K. Suresh.
The conversation started with India's bid to be the host for IAC2022. The other candidates were Brazil, Singapore and Azerbaijan. The day after this recording it was announced that the International Astronautical Federation selected Azerbaijan.
Podcast: Play in new window | Download (Duration: 50:35 — 40.5MB) | Embed
Subscribe: Apple Podcasts | Google Podcasts | Spotify | RSS | More
Some of the topics we covered are listed below
India, along with Singapore, Azerbaijan and Brazil were candidate countries to host 2022 IAC. India hosted the IAC 1988 and 2007. This interview was recorded a day before the announcement was made. Baku, the capital of Azerbaijan was selected as the host for 2022.
Potential ISRO participation with NASA's Artemis programme return to the Moon. Italy and Japan will join NASA. (ISRO remains uncommitted at this stage).
PS4 Orbital Platform – ISRO is making use of the 4th stage of the PSLV to host payload in LEO for several months after it has completed the delivery of the primary payload(s). It will be augmented with RCS and propulsion system to maintain attitude and orbit – potentially indefinitely! Solar panel on the outside will deliver up to 100W. End of mission, the platform will comply with agreed guidelines – to a minimum perigee of 500km if not deorbit.
Gaganyaan – Coming up parachute tests by end of this year, launch abort t(in-flight) test. Uncrewed test flight next year and 2021. Crewed flight to LEO by 2022 is still on target.
Crew selection process is still progressing. Selection criteria require test pilot experience so females will not be part of the first crew. The first flight will consist of a crew of 3. Initially, a team of 4 will go to Russia for astronaut training – a single backup. (Surprising – I would have expected at least 6 for two teams – primary and back up).
Human Spaceflight and Exploration conference in Bangalore, India in January 2020. This mission is to generate public awareness of India's Gaganyaan programme. Rakesh Sharma and astronauts from other countries will also be present.
Small Satellite Launch vehicle (SSLV) to address the newly developing market for small satellites. Currently, small satellites use rideshare that does not offer customised timing or orbit. Both are determined by the primary payload. The SSLV to only from Sriharikota.
The reference in the Indian (Google translation from original Telegu) press for a proposed new launch site in Kulasekharapattan is not really taken seriously by ISRO. Initially to be launched from Sriharikota but may develop a mobile launcher in the future. Sea launch is not under consideration at the present.
Alternative launch sites may come in the future but currently, Sriharikota's launch capacity is not being used fully.
ISRO's first mission to Venus (Shukriyaan) to be launched in 20203. Mass and mission architecture already defined. Aditya-L1 – launch in the second half of 2022. Mars Orbiter Mission 2, architecture not yet finalised – may include lander and rover. No date yet.
Chandrayan-3 – not announced yet but there will be a Chandrayaan-3 and more.
Failure Analysis Committee investigating. ISRO has a fairly good idea from the data on what went wrong. So far – hard landing resulting in spacecraft damage. Why did it happen? The problem is a minor due to "dispersion"? i.e. something was off-nominal but would not say if hardware or software issue? The FAC report will be publically published.
Space station – announced by the ISRO chairman. It will happen but no timeline.
Reusable Launch Vehicle second mission will involve an airdrop and land on a strip at Chitradurga in Karnataka. Target date – December 2019.
Semi cryogenic engine. Engine development in progress with a target date of 2022. Testing and significant progress will take place AFTER the Gaganyaan mission is over.
Next GSLV-Mk3 scheduled for mid-2020 for comsat launches.
Will India use the name "astronaut"? ISRO will conduct something in the way of a public poll and make a formal decision.
Gaganyaan will not be one-off. May go to the Moon, ISS or participate in Artemis. ISRO not ruling out anything.
ISRO continuing to cooperate with Russia, France, ESA, the USA, Collaboration with China is also possible. Two experiments from the Indian Institute of Science will be conducted on the Chinese Space Station. Collaboration with China in science is straight forward but at the agency level – that may come in the future