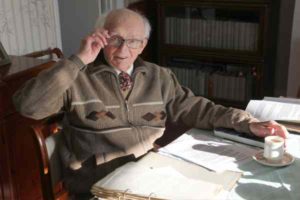 Scroll down for the audio and video.
Reg Turnill joined the BBC in 1956 with the remit to cover aviation and defence. The launch of Sputnik 1 in the following year expanded his remit to include space. He is particularly well known for his coverage of the American Apollo program. In the UK, his name and face, along with that of Patrick Moore and James Burke, is associated with the commentators who covered live the Apollo Moon landings on the BBC.
In April 1961, Reg was sent to Moscow for Gagarin's first post flight international news conference. It turned out to be a fascinating story of cold war politics as well as leading edge space technology. In his own words Reg describes this as " a phony press conference, an entirely choreographed event designed to humiliate the west" and he summarised the whole press conference as "good humoured evasion". Interacting through an interpreter and restricted to pre submitted written questions, he had to put aside his usual analytical approach. However he recognises that this was "a great achievement". This interview was recorded on January 19th 2011 at his home on the south coast of England.
________________________
Today's quote is from Reg Turnill's book "The Moon Landings: An Eye Witness Account". Following John Glen's second spaceflight in October 1998, Reg at 83 the oldest working space correspondent, asked John Glen, the oldest man in space, a question. In part Glen answered
"Old folk have ambitions and dreams too, like everybody else. So why don't they work for them? Don't sit on the couch. Go for it"
Podcast: Play in new window | Download (14.9MB) | Embed
Subscribe: Apple Podcasts | Google Podcasts | Spotify | RSS | More
Reg Turnill talks about Yuri Gagarin's first press conference from AstrotalkUK on Vimeo.