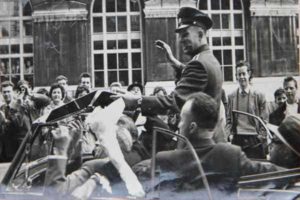 Scroll down for the audio and video.
On a cold bright Wednesday morning fifty years ago in the Soviet town of Turatam, a rocket launched a man into space. A critical initial step for any civilisation that eventually travels to the stars.
Any first is both special and trivial. Special because by definition it only happens once and arises from a complex set of circumstances that happen to come together at that point in time. It is trivial in the sense that there is nothing necessarily unique about the individuals that are involved. They too are chosen by circumstance largely beyond their control. Driven perhaps by a desire for personal glory, an overwhelming sense of duty or an innate curiosity to explore, the early space travellers and those who facilitated it overcame personal challenges, exhaustive training and exposure to unrivalled grave danger to bring a new experience to mankind.
Less than a month after his 27th birthday, Yuri Gagarin was launched into space aboard Vostok 1. Fifty years on, there are now around 550 human beings to have experienced spaceflight in Earth orbit. Of all the orbital spaceflights Gagarin's 108 minute flight is the shortest. It was his only spaceflight. He died in an air crash in 1968 whilst training to return to spaceflight.
In the immediate aftermath of his flight, Gagarin embarked on what turned out to be pretty much a world tour. In July 1961 he came to Britain at the invitation of the Amalgamated Union of Foundry Workers, because prior to joining the Soviet Air Force, Gagarin had trained and worked as a foundryman. He ended up meeting the British Prime Minister in London and the Queen invited him for lunch at Buckingham Palace, but he came to Manchester first because that is where the union was based. Gagarin visited the union headquarters where he was made their first honorary member and awarded a gold medal inscribed with the word "together moulding a better world". He went on to visit a foundry in Trafford Park (the world's first purpose built and largest industrial estate) and then Manchester Town Hall for a civic reception where he met Sir Bernard Lovell director of Jodrell Bank Radio Telescope that had assisted in the tracking of Soviet satellites and spaceships.
This week's episode is the story of a short, originally 16mm cine film partially with audio recorded during Gagarin's visit to Manchester on 12th July 1961. The film shows Gagarin's arrival at Manchester Ringway Airport, the presentation ceremony at the union office in Old Trafford, his visits to the foundry workers in Trafford Park and the Manchester Town Hall. The roll of film was discovered unlabelled in a cupboard in 1986 as the union prepared to move out of the building that Gagarin visited to another. The discovery was made by Alf Lloyd, a Union Regional Officer and colleague. It had no label and was almost discarded. Alf Lloyd presented the film to the Manchester based North West Film Archive in 1987.
In early 2011, by chance, I had been in contact with space historian Francis French, who is from Manchester but is now the Director of Education at San Diego Air and Space Museum in California . In 1987 he was researching Gagarin's visit to Manchester when he was shown a cine film in a Manchester union office on a cine projector. During the screening a part of the film broke off and he was given the broken segment as a gift. Fortunately, Francis kept that segment safe and recognised that his segment was part of the same roll of film. After almost a quarter of a century later the two sections have been once again digitally reunited and an edited version is available online at Astrotalkuk.org. The original film resides with the Northwest Film Archive.
Not least because of his humble family origins but also because of his deep communist principles, the empathy and warmth Gagarin experienced during his meeting with the foundry workers in Trafford Park was genuine and sincere. On 12th April 1962, the first anniversary of his flight, Gagarin sent a message to the Foundry Workers in Manchester via Moscow Radio's English service. The message starts with the words "Dear Brothers", and goes on to recall his experience of his visit to Manchester and includes the moving statement "The firm handshakes of my fellow workers in the moulding workshops were dearer to me than many awards".
The original recording had audio on only two sections. The first audio section is a record of the presentation of the honorary membership at the union office by the AUFW president Fred Hollingsworth. In the second audio section, Gagarin fields questions at the reception in Manchester Town Hall. Gagarin did not speak English, his translator is Boris Biletsky.
________________________
Today's quote is from Yuri Gagarin himself. When you read the text of his speeches, reports in newspapers and his formal messages, one reoccurring topic is about peace and friendship. Much is, no doubt, simple rhetoric, a response to the prevailing cold war uncertainties, and even political propaganda. On reflection, however, I think much of it was honest, heartfelt and a genuine expression of his personal desire for peace and friendship. In a New Year's greeting message of 1962 he states
"May this year be a year of peace on Earth and may the friendship between British and Soviet peoples develop and grow stronger"

Podcast: Play in new window | Download (7.9MB) | Embed
Subscribe: Apple Podcasts | Google Podcasts | Spotify | RSS | More
For the five minute video from the North West Film Archive click image below.