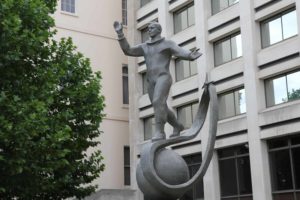 Links to audio and video below.
The 50th anniversary of Yuri Gagarin's UK visit was marked by the unveiling of an aluminium statue of Gagarin, an exact copy of the one outside Lyubertsy Technical School number 10 where Gagarin started his training as a foundryman. The statue, a gift from the Russian federal space agency Roscosmos to the British Council, is located outside the British Council Offices in London but only for one year.
This episode is a collection of some of the speeches and my short interviews during the three events on 14th July. They were the unveiling of the statue in the morning, the lunchtime reception at the Russian Embassy and the evening reception back at the British council. So, in order of appearance here is a list of all the contributors in this episode
Unveiling of the statue ceremony was opened by
Martin Davidson, Chief Executive of the British Council
Vladimir Popovkin Head of Roscosmos (speaking in Russian but with a translator)
Yuri Gagarin's oldest daughter – Elena Gagarina unveiled the statue
Derek Pullen who provides a brief description of how the statue came from Moscow to London.
Two recordings during the lunchtime Reception at the Russian Embassy where incidentally, Gagarin spent each of his four nights in the UK
The Russian Ambassador Alexander Yakovenko,
Cosmonaut Sergei Krikalev, who holds the record for the longest time spent in space
British Council Evening reception
Nataliya Koroleva. Chief Designer Sergei Korolev's daughter. Who gave me a gentle rebuke whilst looking through my book "Yuri Gagarin in London and Manchester" and seeing a photograph of Wernher von Braun and Herman Oberth but not of her father!
The episode ends with Ambassador Yakovenko briefly recalling his recent meeting with the queen.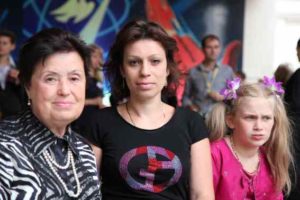 Korolev's daughter, grand daughter and great grand daughter

Podcast: Play in new window | Download (13.1MB) | Embed
Subscribe: Google Podcasts | Spotify | RSS | More